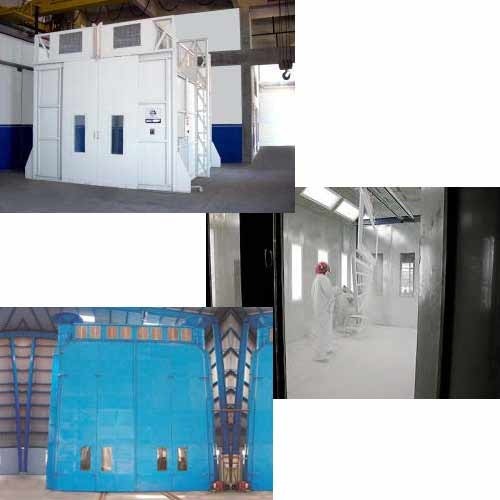 Paint Booth
Product Description
Backed by expert professional & large manufacturing base, we are noted as one of the cardinal manufacturers and exporters of

Paint Booths.

Our expert procuring agent procures high grade quality metals from leading vendors of the industry for manufacturing these booths in compliance with industrial standards. Our expert quality analyzers duly check Paint Booths on diverse quality norms for ensuring their quality. In order to fulfill the needs of our customers, this,

Paint Booth

is offered to our customers at market leading rates.
Key Features:
Tough design
Easy to install
Durability
Sturdy structure
Design of paint booth: The paint booth shall be positive pressure down draft dry type booth and should incorporate suitable exhaust equipment in order to create down draft. Adequate ventilation as per international standards should be provided.The booth design should permit laminar flow inside the booth with wagon placed at its position. Filtered air should be supplied to the booth from separate air supply system. The system should be able to filter off particles above 10 micron. This air supply system should comprise humidity control system to maintain the relative humidity in the range of 60-80% inside the paint booth. Paint booth enclosure should be fabricated from minimum 1.2mm thick GI structural steel bolted type panels. The GI panels should be suitably re-enforced for suitable strength. The paint booth shall be provided with removable steel grating on floor. The paint booth enclosure should be completely closed. Sliding type doors shall be provided on both side end walls. The door opening should be of 5.5m high & 4.5m wide. The doors should be motor operated. The height of booth should be such that there should be a clearance of 2m between roof of the booth & top of wagon placed inside the booth. The paint booth side walls shall be fitted with toughened glass window of minimum 1m height at 1m above floor level throughout the length of paint booth so that painting process can be viewed from outside the booth. Adequate lighting should be provided inside the booth from outside of paint booth wall with toughened glass sealed partition at suitable location to monitor the spray painting operation. Light panels should be wall mounted. The lighting arrangement should ensure a minimum illumination of 800 lux (1 mt above grating level). The lighting panels should be dust proof and easily serviceable. Non stick grating should be provided in the lower suction openings on the floor of paint booth so that the problem of cleaning of gratings choked with paint lumps can be minimized during maintenance of paint booth. Suitable pits in the booth for wagon painting shall be made. Fireproof lighting provision to be made inside the pit below wagon for maintenance purpose. Booth should be equipped with heat & smoke sensors having interlock with all kind of fans so that when the sensor gets activated, the fans should be switched off. This system should have audio-visual indication in main control panel. each & every place inside and outside the ASU. Facility to remove the air supply fan motor from inside to outside the enclosure should be provided. The ASU is to ensure that the temperature & humidity in the booth should provide human comfort for easy spray painting to be executed within. The required parameters should be air temperature inside booth 25-35 0C, humidity inside booth 60-80% and air velocity inside booth 0.4 m/sec with wagon inside booth. Capacity of ASU fan
Contact Us
Corporate Sales : 12/2, Main Road, Nr. Sec-37 More, Opp. Lumax Automotive Systems Ltd., Faridabad, Haryana, 121003, India